Signs You Have a Slab Leak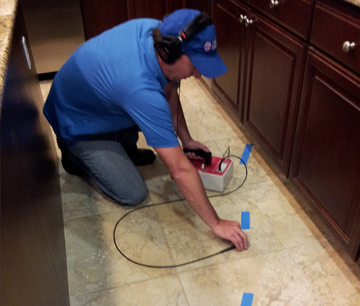 Slab leaks can cause considerable problems for homeowners. Regrettably, many homeowners don't understand that their sitting on top of a possible catastrophe. At Torrance Plumbing and Rooter, we know how vital it is to find a slab leak promptly and fix the problem without delay.
What are the signs that I have a slab leak?
To begin with, you may become aware of that your water bill is more expensive than usual. Sometimes a higher water bill is the result of watering a lawn more than usual or even filling a backyard pool. But, if you haven't done anything different in regards to using your home's water, it's highly likely that you have a leak. You can check for a water leak by turning your water off for a couple of hours. Go see a movie or run an errand. After you return, turn the water on and check the water meter. If the meter recorded water usage while the water was off, this is a very good sign that a leak exists somewhere in your plumbing system.
My home smells damp and mildew!
If your home is humid and smells like damp, stale moisture, it's probable there is a leak. Mildew odors stem from mold growth and this kind of growth is not usual in a dry house.  Investigate for mold development in basement corners, on baseboards, and search for moist spots beneath flooring. Upon finding any damp areas, call a local plumber in Torrance to come out and assess the situation.
Electronic Leak Detection Services
The ideal way to verify that you have a foundation (slab) leak is to have a licensed plumber use electronic leak detection services. These services are non-destructive, reasonably priced, and the best way, hands-down, to locate hard to find leaks.
At Torrance Plumbing and Rooter, we provide 24/7 leak detection services so homeowners never have to wait for repairs. Our leak detection services are extremely popular in the community and 100% accurate. Only licensed plumbers with years of experience perform our electronic leak detection services, so you can be assured you're getting the best deal possible. Call today to get put on the schedule to meet with one of our leak detection plumbers in Torrance.
Tags: leak detection