How to Save on Emergency Sewer Repair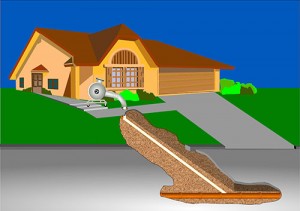 Saving money on emergency sewer repair is a lot like winning the lottery. It's unexpected, but feels incredible. While the chances of scoring that big ticket aren't high, saving money on sewer repair is very possible. Due in part to advanced equipment and technological advances in the industry, you don't have to rely on old-fashioned, expensive repair options that take several days to complete.
Trenchless Sewer Repair Reduces Labor Costs
Repairing damaged sewer lines typically cost so much because they were labor intensive. Traditional sewer repair required heavy excavation and days to finish. Trenchless sewer repair has changed the game. This repair method doesn't require hardly any excavation and is done by relining damaged area of the pipe using special equipment.
Avoid Sewer Problems with Main Line Clog Cleaning
One of the best ways to save money on emergency plumbing is to not need it at all. A lot of sewer damage starts from the buildup of debris in the main line causing blockages that put pressure on the pipe. As the pressure rises, the pipe can begin to crack and leaks can form. Regular drain cleaning can stop this from occurring. Call your Torrance plumber to develop a customized preventive maintenance schedule.
Video Camera Pipe Inspection Services
Another type of preventive maintenance is pipe inspection using a video camera. You may have a main line clog that is tiny enough not to be causing immediate problems, but could easily be cleared away. A video camera pipe inspection can find these little issues and get rid of them quickly.
Preventive maintenance and trenchless sewer repair are the best ways to bypass emergencies. To learn more about our 24-hour emergency sewer repair services in Torrance, call one of our friendly representatives today.