How Hydro Jet Drain Cleaning Protects Your Pipes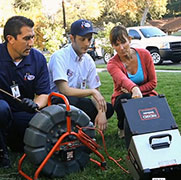 Dirty drains make it difficult for sinks and toilets to drain quickly and fully. A slow-flowing drain can rapidly become a clogged drain if it isn't take care of in a timely manner. You may have used a plunger or liquid drain cleaner to alleviate the problem, but if the drainage problem hasn't improved you may need a more powerful method of drain cleaning known as hydro jet drain cleaning.
Hydro Jet Drain Cleaning Is Affordable and Effective
One of the most efficient plumbing tools is the hydro jet. This handy piece of drain cleaning equipment scrubs away the toughest clogs leaving behind exceptionally clean pipes and drains. The hydro jet is a long, thin wand that is inserted into the affected pipe and applies a pressurized stream of water into the pipe. It's as effective as chemical cleaners without the side effects. Most over-the-counter liquid cleaners are made from chemicals that over time can break down the piping and drain material, which can lead to leakage and other problems. Hydro jetting drain cleaning eliminates this potential problem.
Did you know? The hydro jet isn't only effective on interior pipes. It's highly successful at clearing main line clogs and is a tool commonly used for sewer drain cleaning.
Make an Appointment with a Drain Cleaning Plumber
Hydro jet drain cleaning for Torrance homes is available as part of a routine maintenance routine as well as part of emergency drain cleaning services. As part of the hydro jet cleaning process, a licensed plumber will likely use a video camera inspection tool to get a closer look in to your pipes to find the exact location and condition of the pipe where the clog exists. Hydro jetting when combined with video camera inspection is a power drain cleaning option that can extend the life of your home's plumbing system.
Call us today to learn more about our drain cleaning specials for Torrance residents!